Snow Blowing Service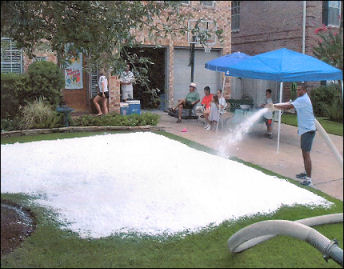 We come out to your event and blow snow on your lawn or grassy area. Our snow is made from Ice and there are no chemicals or artificial ingredients.
We prefer to blow the snow on grass as concrete, gravel, or dirt make the snow look dirty. All areas are filled 5 inches deep. In December the snow tends to last about 5 to 7 hours depending on temperature. If you need the snow to last longer we suggest renting a large tent to protect the snow from direct sunlight.
Pricing
These are just suggested sizes, you can order whatever size you want but we do have a 5,000 lb minimum for snow blowing. If you want less than 5,000 lbs then click here to go to our snow by the bag delivery page.
| | | | |
| --- | --- | --- | --- |
| Snow | Approx. Sq. Feet | Approx. Area | Total Price |
| 5,000 Pounds | 225 | 15 x 15 | Call for Pricing |
| 6,000 Pounds | 300 | 17 x 17 | Call for Pricing |
| 9,000 Pounds | 430 | 20 x 20 | Call for Pricing |
| 12,000 Pounds | 570 | 24 x 24 | Call for Pricing |
| 15,000 Pounds | 710 | 26 x 26 | Call for Pricing |
| 20,000 Pounds | 950 | 30 x 30 | Call for Pricing |
| 30,000 Pounds | 1100 | 33 x 33 | Call for Pricing |